Mark Strother, 2004 Lilly Scholarship Recipient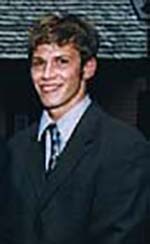 Mark Strother graduated from Bloomington North High School ranked among the top students in the class of 2004. He received a prestigious Lilly Endowment Community Scholarship and chose to attend Indiana University, where he continued to flourish in the classroom. Strother enrolled in IU's highly-competitive Liberal Arts and Management Program (LAMP). LAMP enables College of Arts and Science students to combine their liberal arts studies with challenging management coursework through the acclaimed Kelley School of Business.
A film major, Strother hoped that the LAMP program could serve as a catalyst for eventual opportunities in the business side of the film industry. However, he acquired a much greater lesson during the fall semester of his sophomore year.
"At first, I had a difficult time with accounting and economics, to the point that I wondered if I could do the LAMP program," Strother said. "I had always kind of coasted through school, and this made me realize how hard I have to work in college. Rather than working for a grade, you need to get interested in what you can learn."
Unfortunately for Strother, this "revelation" can sometimes be a double-edged sword.
"When I applied for the Lilly Scholarship, I didn't know what I wanted to do (major in), so I had a theme of my application essay – That's what college is about, finding something that you enjoy and are good at." Strother said. "At first, I think the (Lilly Scholarship) committee was shocked by my essay. I have a wide range of interests and still do. I learned not to rule things out early, explore and find out what you are really passionate about."Strother has certainly heeded this advice. After starting as a film major, he switched to an environmental management program in the School of Public and Environmental Affairs before transferring back to theCollege of Arts and Sciences as anthropology major.
"In order to stay in the LAMP program, I needed to stay in the College of Arts and Sciences," Strother said. "I looked at all of the course descriptions for all of the majors, and anthropology seemed the most interesting. Like many liberal arts majors, there is a lot of reading, writing papers and in-class debates. It has been going well."According to Strother, the desire to broaden your horizon should not be limited to the classroom.
"It's an interesting dilemma for people from Bloomington who choose to stay in town and go to IU," Strother said. "It makes it tough to branch out, and I wish that I would have done that more as a freshman. It's tough to say what exactly they should do, but they need to be open to meeting new people."
Strother will have just that opportunity when he joins 10 other students for archaeology field school in Belize during IU's first summer school session this May and June. For seven weeks, Strother and his classmates will learn basic excavation techniques, site analysis and GPS mapping on an ancient Mayan site.
Although anthropology is probably not in his immediate career plans, Strother knows that experiences like the Belize trip will pay dividends towards whatever field he ultimately chooses.
"Thanks to Lilly, I have a lot of money saved up, so I may join the Peace Corps or look at jobs abroad," Strother said. "Eventually, I'd like to go to law school. I don't have a great desire to be an attorney or even work in a law firm, but I think that a law degree offers a lot of possibilities. As you can tell, I'm someone who keeps his options open."
---
Alex St. John – 2012 Lilly Scholarship Recipient
St. John, daughter of David and Karin St. John, was the captain of the soccer and track-and-field teams at BHSN. She was the co-president of the BHSN chapter of Habitat for Humanity and served on the family selection committee for the Monroe County chapter of the organization. She was also the president of the school's Hoosiers Outrun Cancer team and a member of both the National Honor Society and the National Arts Honor Society. Alex is a photographer, jewelry designer, interior decorative painter, and a volunteer for a number of organizations including the Hoosier Hills Food Bank, Monroe County Humane Association, and Bloomington Community Kitchen.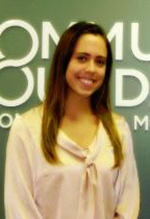 "The scholarship makes a huge difference for me and my family," Alex said. "With my IU tuition covered, I will be able to pursue my eventual goal of attending medical school. It's such an immense honor because I have always looked up to the Lilly Scholars I've met. It means a lot to me that the scholarship was based in part on community service, which has been a high priority for me."
---
Evelyn Bauman – 2012 Lilly Scholarship Recipient
Evelyn is the daughter of Mark Edward and Mary Clare Bauman was a member of the Sounds of South Advanced Choir, the choir of the St. Paul's Catholic Center, Theatre South, the BHSS Student Council, and the BHSS volleyball, dance, and tennis teams. She has volunteered as a tutor at Middle Way House, as an assistant for the 8th grade volleyball team at St. Charles Catholic School, and as the vice president for the Bloomington South Riley Hospital for Children Dance Marathon, among many other service activities. Her academic honors included the AP Scholar Award, National Honor Society, and National Merit Recognition.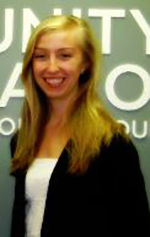 "The Lilly Scholarship is something I can be so proud of, because it means I've earned my own tuition," Bauman says. "It feels like such an incredible feat. I'm so glad I did everything I did in high school because it led to this opportunity. I am just a bit shocked and so grateful."
Bauman is the second person in her family to become a Lilly Scholar – her sister, Lynne, received the award last year.