By Mary Anne Sterling
Special Contributor and Community Foundation Stewardship Committee Member
"Where flowers bloom, so does hope." –Claudia Taylor "Lady Bird" Johnson
Early environmentalist Lady Bird Johnson, the wife of the 36th U.S. President Lyndon B. Johnson, was best known for her national conservation and beautification efforts. From clean lakes, rivers, streams, and streets to clean air, preserving our parks, trails, and wilderness areas, and providing safe waste disposal, she worked tirelessly to raise awareness of the importance of our environment in our daily lives. Her quote is the inspiration for our Spring Good News Update.
Thanks to the generosity of donors, the Community Foundation is impacting local environmental care and sustainability in Monroe County. The following sections highlight recent environmentally-focused Community Impact Grants and Funds. 
"Preserve and cherish the pale blue dot, the only home we've ever known." -Carl Sagan
Sycamore Land Trust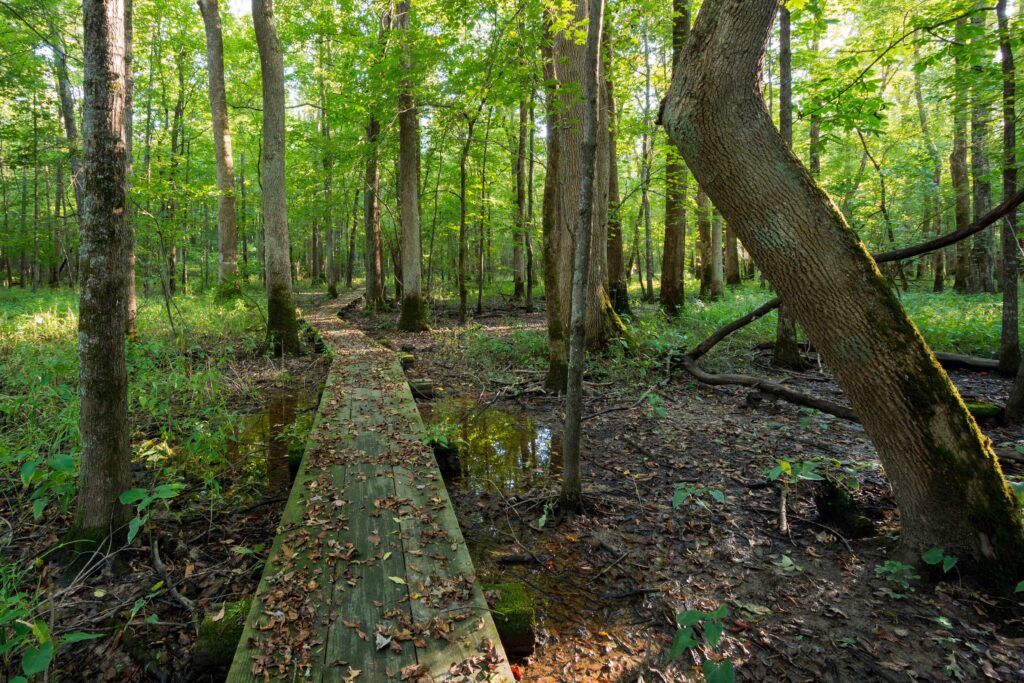 Sycamore Land Trust has protected land, restored habitat, and connected people to nature since 1990. Founded by volunteers, the nonprofit conservation organization owns and cares for more than 11,000 acres today across 17 counties in Southern Indiana and maintains more than 30 miles of hiking trails on 13 preserves – all of which are available to the public to enjoy for free. We spoke to Ann Connors, Development Director, to learn more about the organization's conservation and environmental endeavors.
"Our mission," Ann says, is to "preserve the beauty, health, and diversity of southern Indiana's natural landscape through strategic land conservation and environmental education." The organization is committed to multi-generational education, access to nature, and sustaining the quality of life in our region.
The Community Foundation "has been a strategic partner with us since 2001," Ann says. "The staff's guidance, encouragement, and funding — for everything from operating expenses and land acquisition to stewardship and environmental education programs for schools — has supported every aspect of our evolution. They also hold several of our Funds, including the Stewardship Endowment Fund and Monarch EnvironmentalEducation Fund," she said.
The recent Creating Communities grant from the Community Foundation supported a project at the 68-acre Powell Preserve along Beanblossom Creek. "It enables us to restore and stabilize the stream banks, protect the access trail from erosion, and increase water quality," said Ann. It also will enhance the visitor experience by expanding the parking lot, installing a welcome kiosk, completing a major trail expansion, and providing environmental education programs.
"Our assets are a wonderful source of comfort during times of stress," added Ann. "This was especially evident during the pandemic when people sought solace in nature or gathered with friends and family at our many preserves to hike, picnic, and take photos. We all have a stake in our future, and we all benefit from our natural surroundings in different ways."
Learn more about Sycamore Land Trust at www.sycamorelandtrust.org.
Lake Monroe Water Fund
Lake Monroe, with a 276,000-acre watershed, is the sole water source for 128,000 people in Monroe County and a supplemental source for Brown County. Lake Monroe Water Fund (LMWF) was incorporated in 2021 as the first water fund in Indiana enabled by The Nature Conservancy. Its purpose is to be a financing source for mitigating threats to the water quality of Lake Monroe from sedimentation, nutrient runoff, and 9,000+ septic systems, many old and poorly maintained.
LMWF Executive Director Michelle Cohen explained that three areas are critical for water quality in the Lake Monroe Watershed: agriculture, land management, and failing septic systems. LWMF aims to raise awareness of the issues that negatively impact the environment and help avoid runoff into the lake.
"Our relationship with the Community Foundation is vital to our future. The funding is fantastic, but the institutional knowledge they have to share and the relationships and community connections they have built are invaluable to us," she says.
The Impact Grant from the Community Foundation has two components: capacity-building resources and soil testing. "The support has been a big boost for us, as we are a young organization that needs to build our capacity. The grant has made available valuable technical training to understand the science behind what we're trying to protect and will allow us to develop our first strategic plan."
The soil testing component is equally important. "It encompasses a robust public education program and free soil testing for households that want to be more responsible and knowledgeable about how their choices impact the environment."
Visit www.lakemonroewaterfund.org to learn how you can help or donate.
CanopyBloomington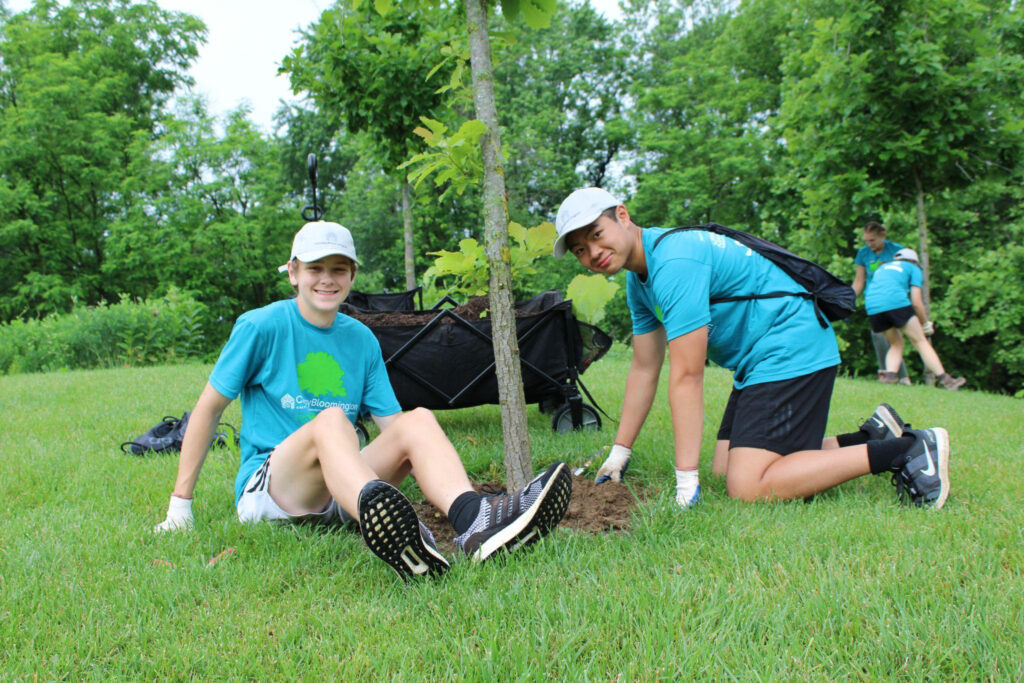 CanopyBloomington was created to maximize Bloomington's tree canopy and sustainably manage the urban forest that provides many environmental, health, and social benefits. With a focus on community engagement, CanopyBloomington's Youth Tree Tenders program trains and educates high school students—who are paid for their efforts—about the benefits of trees and how to care for them.
This experience enables teens to apply that knowledge in the field through tree planting and maintenance efforts. Along with the City of Bloomington's Green Work Development, CanopyBloomington contributes to a larger professional development program that provides meaningful, decent-paying jobs for youth in need while fostering interest in environmental careers.
The program targets areas that lack canopy cover while improving care of existing trees and planting new trees.
Learn more about CanopyBloomington and ways you can help at www.canopybloomington.org.
Friends of Lake Monroe
Another beneficiary of a Community Foundation Impact Grant is Friends of Lake Monroe (FLM), created to support water quality and sustainable recreation in Southern Indiana's Lake Monroe.
Thanks to the Foundation's Impact Grant, FLM is implementing a watershed management plan with the oversight and cooperation of a 25-member, three-county, multi-agency steering committee. The project focuses on expanding community knowledge and support of the plan while implementing a pilot septic assistance program. FLM will develop educational materials, organize community forums in Nashville and Bloomington, conduct a three-county forum for local decision-makers, and participate in local events to engage Lake Monroe communities with the plan.
Protecting Lake Monroe is a long-term endeavor. For it to be successful, it will be vital to engage residents, visitors, businesses, and government in implementing the plan.
To learn more, visit www.friendsoflakemonroe.org.
Indiana Solar for All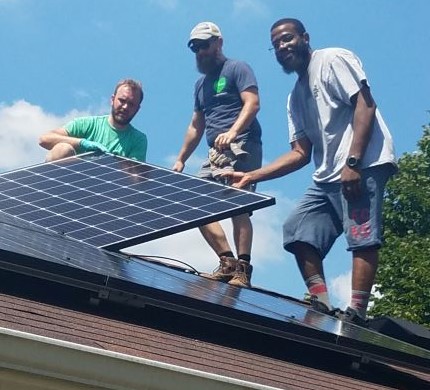 "Utility rates are rising and are now twice as expensive as they were just a decade ago, placing a disproportionate financial burden on low-income households," says Anne Hedin, Communications Manager for Indiana Solar for All (ISFA).
Founded in 2018, ISFA is a volunteer-run project of the Center for Sustainable Living. ISFA volunteers provide qualified low-income homeowners with training, guidance, and the materials to install solar energy systems for their own homes. It is the first program of its kind in Indiana.
A Community Foundation grant has enabled ISFA to increase the number of annual home installations dramatically, she explained. "In addition to the grant, the Community Foundation recruited an anonymous donor, enabling us to scale our operation. The funding covers the cost for materials to equip an additional eight homes; so, this will be a record year of 12 installations for us," she added.
The households chosen for the solar systems pay a disproportionate amount of their income for energy and are among the most vulnerable to rate increases. They are also the least able to afford a solar system and typically can't qualify for the federal tax credit.
"We extend our heartfelt thanks to the Community Foundation and donors. You are helping us achieve our mission to accelerate the adoption of rooftop solar to all households in Indiana while making it affordable to those who need it most," Anne added.
Learn more about ISFA by visiting www.insfa.org.
Lake Lemon Enhancement Fund
The Lake Lemon Conservancy District (LLCD) is also working to ensure the sustainability of a beloved natural asset. To do this, LLCD established the Lake Lemon Enhancement Fund at the Community Foundation, which will enhance and preserve the lake for years to come. Current sustainability issues include sedimentation, water quality, aquatic vegetation control, shoreline erosion control, and wildlife management.
Visit www.lakelemon.org to learn more or make a donation to the Lake Lemon Enhancement Fund on the Community Foundation's website.