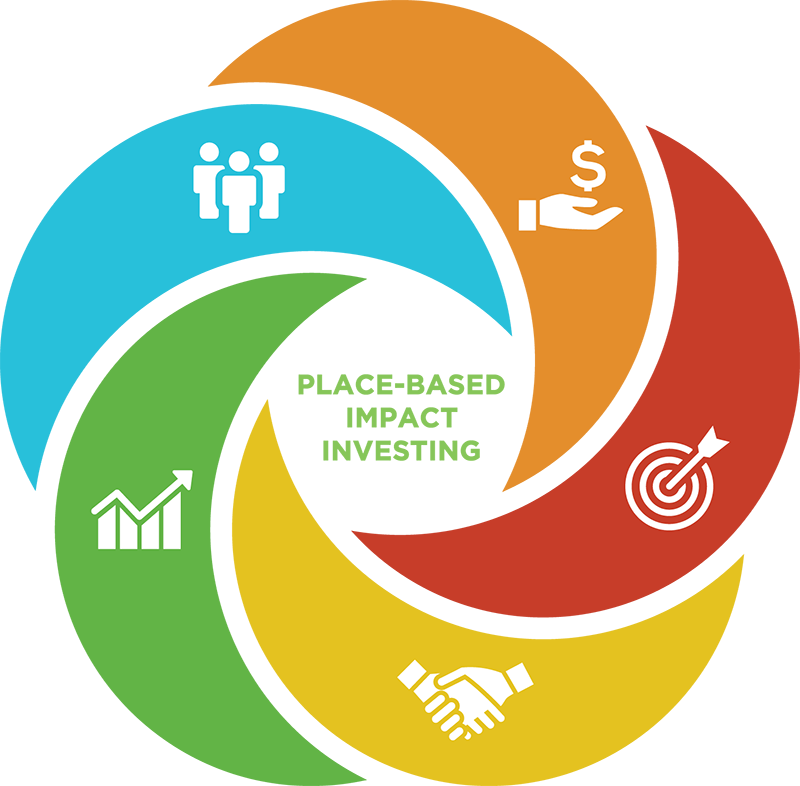 As an organization deeply committed to the long-term vibrancy and vitality of Bloomington and Monroe County, the Community Foundation strives to meet both pressing needs and compelling opportunities through an expanding toolbox of locally relevant strategies.
Place-Based Impact Investing is the newest addition to our impact roster. The Community Foundation has committed up to 5% of our endowment assets for impact investments that generate both financial and social returns.
What is Impact Investing?
Place-based impact investing brings a mission-driven lens to community foundation portfolio allocation strategies. By combining our strengths in community development with our expertise in managing a large endowment, impact investing allows the Foundation to create measurable community and social impact with financial returns. Unlike grantmaking, a familiar tool of community foundations, impact investments are intended to be repaid and recycled back into the community in the form of future investments. Often impact investments are made at lower rates of return to generate maximum community impact. These investments may include loans, loan participations, unfunded guarantees, and others that balance risk, return, and impact.
Community Foundation Place-Based Impact Investment Focus Areas:
Affordable and workforce housing
Transportation
Economic and small business development
Nonprofit capacity
Community facilities
Environment, sustainability, and clean energy
Diverse, equitable, and inclusive community ecosystems
Health, wellness, and other community development opportunities
The Community Foundation is actively sourcing potential impact investments. If you have a potential deal you would like to discuss with the Community Foundation, complete the initial impact investment questionnaire or contact Meagan Niese at 812-333-9016.
Impact Investing News
Community Foundation makes $300,000 low-interest bridge loan for New Hope for Families facility