Commitment – Powered by Giving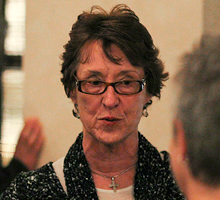 "Bloomington is home for me; I am connected here. I believe that it's everybody's responsibility to work on making the community better and a way for me to do that is a combination of volunteering and supporting the community financially."
Joyce Claflin is the epitome of a hardworking, successful career woman.  With a background in public accounting, Joyce has served as Vice President Controller of Monroe Bank, Chief Financial Officer of the Indiana University Foundation, and owner of Home Instead Senior Care, a home healthcare franchise that serves the elderly. Joyce also invented a bed elevating system designed to help alleviate the discomfort suffered by those with acid reflux disease or other chronic conditions.
Despite her numerous accomplishments, Joyce finds her role as a dedicated community member most fulfilling. She volunteers her expertise to a variety of local organizations and is committed to the Community Foundation of Bloomington and Monroe County, as a Legacy Society donor. A former Board president of the Community Foundation, Joyce says her commitment to Bloomington is still important and is carried on through her planned giving. "I am so supportive of the Community Foundation because it's a great way to centralize your giving in one place. It's a great vehicle to take care of your charitable giving if you so choose."
Although Joyce's endowment has yet to be designated for a specific purpose, she expresses great passion in her primary interest; the First United Methodist Church. As a dedicated member of the congregation, she volunteers with the Interfaith Winter Shelter and is also involved with Shalom Center-a local organization started by the church. "I became interested in the Shalom Center as an outreach and extension of the mission of the Church and a way to be involved in the community. That's where my interests are now and will probably continue to stay."
As Joyce's personal affiliations influence her volunteer commitments, she says her professional life before retirement, specifically her time at the IU Foundation, had a significant impact on her interest in philanthropy. "The time I spent at the IU Foundation was formative as far as where I am with my philanthropy. It's where I learned about planned giving and the different ways in which planned giving can really meet a lot of different goals for a donor."
Joyce's decision to engage in philanthropy through planned giving, she says, seemed the most logical. "The bequest just made sense because as you get into retirement years and your income goes down significantly, it is really hard to do what you want to do from a charitable perspective from current income. It's a really great way to provide for things that you have a charitable interest in by giving through planned giving."
Joyce's impressive career path coupled with her loyal community service and commitment to her community have undoubtedly inspired her to support the Community Foundation and she hopes other Hoosiers will do the same.
"Bloomington is home for me; I am connected here. I believe that it's everybody's responsibility to work on making the community better and a way for me to do that is a combination of volunteering and supporting the community financially."