Legacy, Powered by Giving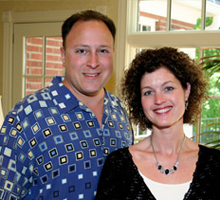 Motivated by the example of her parents, Beth Theile and her husband Kevin have continued a philanthropic legacy through a fund at the Community Foundation that allows them to involve their own children in giving.
Growing up, Beth Theile saw philanthropy as an essential part of life. Her parents, Ray and Marcie Tichenor, were very active in the Bloomington community, serving on several boards and contributing to a wide range of organizations including the Bloomington Hospital Foundation, the Society of the Friends of Music, Indiana University, and Ivy Tech Community College.
They also established, through the Community Foundation of Bloomington and Monroe County, several endowments: two in their family's name – the Ray and Marcie Tichenor Fund and the Tichenor Unrestricted Fund – and two through their business, T.I.S. Group, which includes several college bookstores, a used college textbook company, and an imprinted collegiate sportswear company.
"Giving was something that I saw every day when I watched my parents," Beth says. "It was instilled in us as a family."
Ray and Marcie both passed away recently, but the legacy of giving continues through Beth and her husband Kevin. Along with Beth's siblings, they are now co-owners of T.I.S. Group, and have become advisors for the T.I.S., Inc. Fund. Kevin is now serving as a Community Foundation board member, just as Ray did before him. Inspired by Beth's parents and motivated by the power of endowed giving, where impact is both sustained and long lasting, the couple started their own Theile Family Fund through the Community Foundation.
The Theile Family Fund gives Beth and Kevin a chance to involve their three children in giving. "We have left the fund open to go toward any area of need or organization, and our plan is to make that decision something we do together each year as a family," she says. Whether they target a cause that their kids are involved in – like their eldest daughter's participation in the dance marathon to benefit Riley Children's Hospital – or respond to a need that the Community Foundation has identified, they'll be supporting the local community while helping their children experience the lasting impact of philanthropy.
"Over time, our kids will become the successor advisors for the Theile Family Fund," explains Kevin. "This way, the legacy of giving continues to a third generation, and they get to experience the excitement and the reward of giving back to this remarkable community."