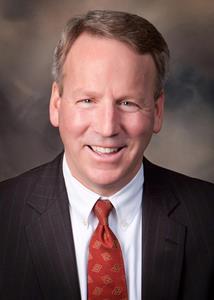 CFBMC Board Member and Old National Bank Regional CEO Mark Bradford has been chosen as Indiana's 2016 Outstanding Volunteer Fundraiser by the Indiana chapter of the Association of Fundraising Professionals (AFP). Bradford will receive the award at the Indiana Philanthropy Awards Dinner on November 17, 2016 in Indianapolis, IN.
"The Community Foundation is greatly indebted to Mark for his leadership," said President and CEO Tina Peterson. "Mark embodies the potential that a volunteer can make in inspiring and motivating peers, fellow board members, the community, and an organization's staff to stretch beyond the norm, to set ever higher expectations, and to achieve."
Bradford, along with Community Foundation leadership, created the CFBMC Corporations for Our Future Campaign in 2013. Under Bradford's volunteer leadership in this initiative, corporate giving to the Community Foundation has increased by 24 percent since 2013. With $687,200 in endowed corporate gifts, the campaign is already more than 68 percent towards its $1 million goal in corporate gifts by 2022. Thanks to the Lilly Endowment GIFT VI matching challenge, a portion of corporate funds were also matched between 2014 and 2016. With a match of $408,850 from the Lilly Endowment, the impact of corporate gifts to the Community Foundation has totaled $1,096,050 since 2013.
"This project has been a labor of love for Mark," said Immediate Past Board Chair Edward W. Najam, Jr. "He is an incredible advocate for the mission of the Foundation."
Funds raised from the Corporations for Our Future Campaign will generate more than $46,000 in grants to local nonprofit organizations next year. Over the next 10 years, the impact of corporate gifts raised to date will infuse more than $500,000 into Monroe County to respond to the community's most pressing needs and compelling opportunities.
"As is the case with all good fundraisers, Mark is driven by a passionate commitment to making Monroe County a better place for all who call it home," added Peterson. "He is a strong fundraiser who knows how to connect with others and draw upon their love of our community. But more significant than his ability to raise funds is the legacy of impact he has created for Monroe County."
Tickets and sponsorships are available for the 2016 Indiana Philanthropy Awards on November 17. More information and the complete list of 2016 award recipients is available at https://community.afpnet.org/afpinindianachapter/home.
About Community Foundation of Bloomington and Monroe County:
Created by individuals, families and businesses who share a passion for Monroe County and a vision for its future, the Community Foundation of Bloomington and Monroe County has granted $24 million to more than 400 local nonprofit organizations since its incorporation in 1990. With a growing $26 million endowment, the Foundation makes a difference by connecting caring people, important causes, and community resources.