Warren Cutshall's father, William, demonstrated generosity throughout his life. Growing up, Warren learned from his dad's example, and today, he is ensuring that William's impact is still being felt and will be for generations to come.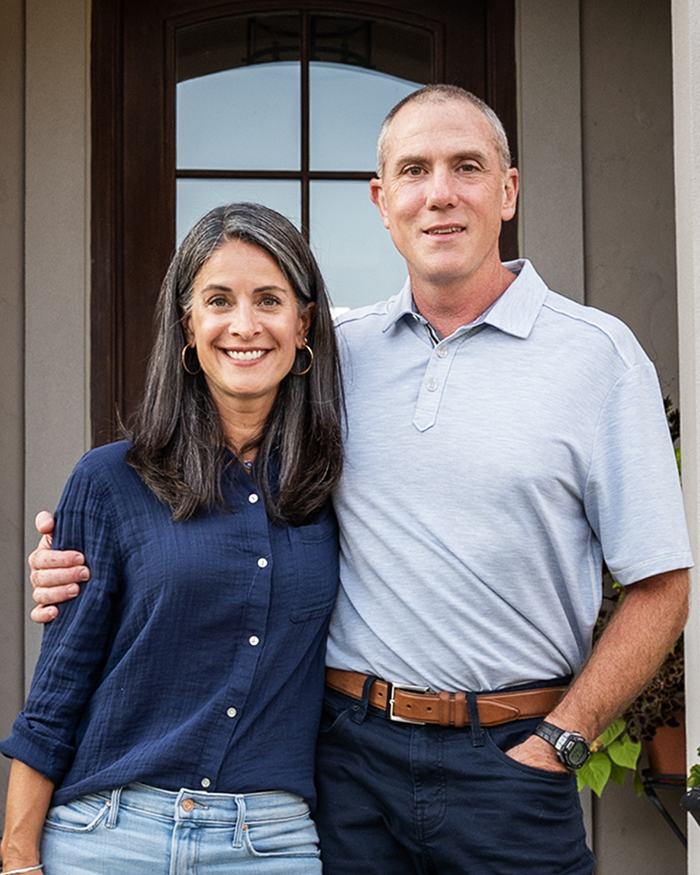 Warren grew up in Bloomington after his father moved the family here to practice medicine. William Cutshall played a key role in establishing Cook Family Health Clinic, which serves Cook Group companies' employees, spouses, and dependents. As a doctor, William found innumerable ways to care for others locally and abroad.
The Cutshall family traveled for medical mission trips each year to volunteer their time and William's medical expertise. The family often traveled to various locations, including Haiti and destinations in the South Pacific, where William could transport medical supplies and offer clinical care to those in need. Warren was deeply connected to his father from a young age through their love of travel, adventure, and serving others.
William Cutshall's legacy is a story of generosity, authenticity, and service. Warren shares, "My dad was always a generous man. If you saw something on his kitchen counter and commented that you liked it, he would give it to you. He was just that way. When patients had a tough time paying, my dad would work pro bono or accept what they could give. One time, a patient gave him a donkey as payment, while others just gave him things like food because they liked him."
During high school, Warren became fascinated with learning the Chinese language, which led him to Georgetown University's renowned Chinese Program. After graduation, Warren worked in New York for a stint before realizing he wanted to continue his education and career in corporate law in Bloomington, where he reconnected with his future wife, Lara. Lara and Warren launched their long-time careers, permanently anchoring their family in Bloomington, when Lara began working as an attorney for Bunger & Robertson, and Warren started his work as an in-house counsel for Miller Real Estate LLC.
In December 2005, when Warren's dad, William Cutshall, passed away, the family decided to create a fund in his memory: "At the time of my dad's death, the donor-advised fund enabled family and friends to make donations to honor him. My wife's coworker, Peggy Frisbie, another attorney, recommended setting up a donor-advised fund with the Community Foundation. We pretty easily found a great structure for our charitable giving that was the best fit for our family. The Community Foundation can accommodate all shapes and sizes, and their experienced staff can help you find the right answers to your questions."
A donor-advised fund allows donors to play an active role in their grantmaking while leveraging Community Foundation expertise. Warren shared the advantages experienced over the past 17 years: "Having the ability to make recommendations as the community needs change, or as our giving priorities shift, is one of the huge benefits. With a donor-advised fund, you can specifically make recommendations about what you support as an individual or family. Our community has always had needs; they just change over time."
Today, Warren and Lara's family includes three children: Carter (age 17), Helena (age 15), and Fionn (age 13), and two precious dogs, George and Gus. The close-knit Cutshall family continues to invest in one another's lives, furthering their family story here in Monroe County.
Warren comments on Bloomington's importance to their family: "My wife and I grew up in Bloomington, so we love supporting our community. Along with us, our children and parents are still a part of this community. We passionately care about the causes in our community and the people around us getting the support they need."
Warren shares how the William D. Cutshall Memorial Fund has impacted his family, saying: "The memorial fund is one point of connection among the generations. My mom is a big part of our family. My kids didn't know my dad, but they can get involved by contributing to the fund or providing distribution suggestions. I think anybody can make an impact, no matter how small or big of a financial role they can play. My wife, family, and I have a long-term commitment to this community. You do what you can every year and continue to improve year after year. Creating community impact is an ongoing process."
The Cutshall family was and continues to be deeply rooted in philanthropic giving and serving throughout Monroe County. Warren seeks to pass on these values to his family, sharing: "Hopefully, generations after us are learning through examples of good parents and grandparents. Those fortunate enough should give back to the community because we are all connected. I feel as though I have given my kids strong values and areas of being connected to the community. My kids have learned many different ways to volunteer and give back in non-financial ways through their mother, too. For every person, there are many ways to give; the will to do it is the most important thing."
The William D. Cutshall Memorial Fund has grown to be a powerful vehicle of impact in the community by distributing grants to meet pressing needs while continuing to tell the story of William's life and legacy. As Warren looks to the future and purpose of this fund, he said: "I still meet new people that tell me that my dad changed their life or saved their life. My dad was a character, but at the end of the day, he was a generous person and made a difference. Through charitable giving, I would love to continue changing people's lives like he did. This fund will continue making a difference and meet our community's needs while creating more impact in the areas that need it the most."