By Mary Anne Sterling
Special Contributor and Community Foundation Stewardship Committee Member
With a growing population of 6,600, the town of Ellettsville is known for its hometown atmosphere, limestone history, and beautiful outdoor spaces. It's also a community actively engaged in planning for growth and executing a vision for a prosperous future. This Good News Update focuses on Ellettsville and the wonderful ways this town is thriving.
"Imagining the future of Ellettsville" started as a town hall meeting in 2019, where residents and business owners gathered to share their thoughts. Sparked by several catalystsóthe widening of State Route 46, demand for affordable housing, growing opportunity for business, and a desire for community members to define its future – it was seen as a time to act.
Ellettsville resident Christa Curtis, Vice President Of Global Marketing and Communications with Cook Medical and a Greater Ellettsville Area Chamber of Commerce board member, explains that "the initial scope of the effort was to create a community-wide shared vision. We welcomed participation from local government, businesses, homeowners, nonprofits, and school leadership."
A partnership between the Town of Ellettsville, the Ellettsville Chamber of Commerce, and Ellettsville Main Street was established, and a volunteer committee was formed to identify a path forward. Later that year, the committee applied for and received a grant from the Community Foundation to help with the effort.
As co-chair of the Envision Ellettsville project, Christa acknowledged that the town has very few paid resources. "The grant was a significant gift," she said. "It enabled us to hire a professional consultant to guide the strategic planning process, do the research, and deliver recommendations." For nearly a year, focus groups and in-depth research helped to identify clear, concise, and fiscally responsible steps that Ellettsville should implement.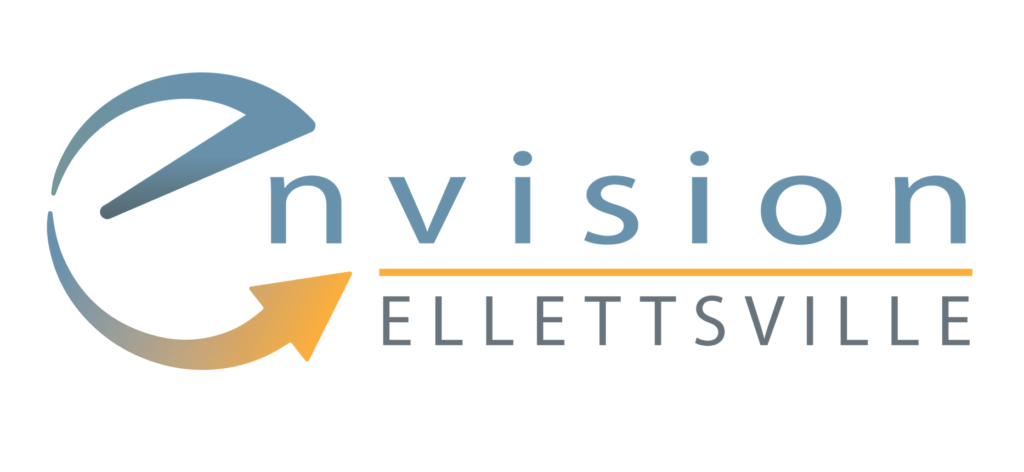 Animated conversations focused on the features that contribute to a growing community's quality of life – like safe neighborhoods, quality schools, a vibrant downtown, more housing options, parks, and outdoor spaces that the entire community could enjoy.
"We unveiled our vision in May of 2022, and it has served as the context for the town leadership and community advisory council to evaluate future development, prioritize investment, and craft long-range plans," she added.
The Envision Ellettsville Vision Plan includes big ideas for placemaking and improvements that leverage the town's current assets and aspirations for the future. Examples include new gathering spaces, community gateways, wayfinding signage, and artwork installations.
The Community Foundation increased its Ellettsville representation to its board of directors in recent years with the additions of Dr. Jerry Sanders, Superintendent of Richland-Bean Blossom Community School Corporation, in 2021 and Christa Curtis in July 2022.
The community's visioning efforts were even recognized in May 2023 by the Indiana Chapter of the American Planning Association. The Outstanding Comprehensive Plan Award was given to the Envision Ellettsville board and the Town of Ellettsville based on its originality and innovative approach to address needs, state-of-the-art presentation and methodology, strong effort to solicit community input, and effectiveness in identifying steps for implementation.
From Ideas to Implementation
Ellettsville's momentum hasnít slowed down with the completed Vision Plan. In fact, it's only increased. The town is updating its comprehensive plan, pursuing additional grants, and beginning to put the big ideas into action.
One of these big ideas identified in the vision is to establish new parks and expand trails. In addition to gathering feedback from various people and businesses, Christa said the committee invited a third-grade class to brainstorm the kinds of projects they would like to see. She said the kids had two requests: "We want a dog park, and we want to be able to continue to play in the creek." She said that even the town manager, Michael Farmer, grew up in Ellettsville and played in the creek as a kid.
Christa said she is confident that Jack's Defeat Creek will remain a permanent fixture in the town's future. Plans are in place for a new park on the former Stewart Family farmland located along Jack's Defeat Creek, which flows into Beanblossom Creek.
Stewart Park will ultimately connect the Heritage Trail with Monroe County's Karst Farm Park. The town hopes to have an outdoor amphitheater there for entertainment, along with food trucks that will attract both locals and visitors. Ellettsville also hired its first parks and recreation employee, Rick Plunkett, who serves part-time as its Sports Director.
The Town of Ellettsville was also awarded a Regional Economic Acceleration and Development Initiative (READI) grant to transform a historic barn into the Ellettsville Heritage Center at Stewart Park.
The Center will be for the use of the community as a gathering space, music venue, and for artistic and educational enrichment. The anticipated completion date for the Ellettsville Heritage Center project is December 2024. For project updates, check out www.envisionellettsville.org.
New Home for Historic Cabin
In 2022, the Community Foundation awarded the Town of Ellettsville an Impact Grant to relocate and preserve a 558-square-foot log cabin. This grant was made possible thanks to unrestricted funds and distributions from the Hoosier Hills Credit Union Better for our Communities Endowment. The Hoosier Hills Credit Union fund is a field of interest endowment created to support programs and organizations that improve the quality of life in the Ellettsville community.
Denise Line, Planning Director for the town of Ellettsville, gave us a quick update on the big move of the "Log Cabin Museum."
Originally constructed in Greene County in the 1880s, it was donated to the town a few years earlier by Richland Senior Citizens, Inc. The problem, she said, "is that the town had no way of dismantling or moving it. Until it fell into disrepair, the cabin was a prominent feature of the Fall Festival as a quasi-museum with displays and a back porch where people could gather." For many years, she said, "the cabin hosted elementary school field trips so children could get a sense of how folks lived in pioneer times."
Thanks to the grant from the Community Foundation, the new site for the log cabin was prepared this summer, the footers were poured, and the move was coordinated with local utilities.
Denise reports that "the log cabin was permanently moved to the Heritage Trail site near the Ellettsville Town Hall just in time for this year's Fall Festival." She says that eventually, the restored log cabin will serve as an educational resource for the community and be more interactive, with photos, signage, and narration to share with the general public.
Other Recent Ellettsville Community Foundation Grants
For decades, the town of Ellettsville has been the recipient of donors' generosity and support. Grants from the Community Foundation have contributed to its charm as a place to visit or call home.
For example, the Edgewood Early Childhood Center received a Community Foundation Creating Community grant to construct a new outdoor shelter adjacent to the playground for classes and community events. This grant was also made possible thanks to unrestricted funds and distributions from the Hoosier Hills Credit Union Better for our Communities Endowment.
Heather Kensek, Early Childhood Center Director, says that the outdoor shelter and picnic area was completed in November 2022 and has been very well received by the school and the community.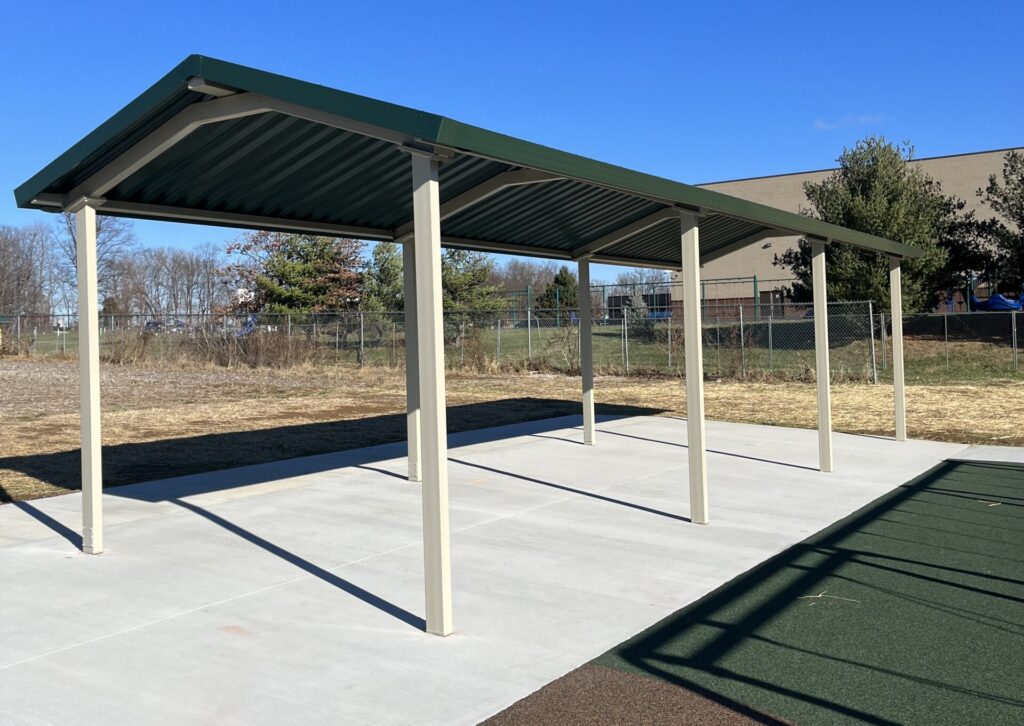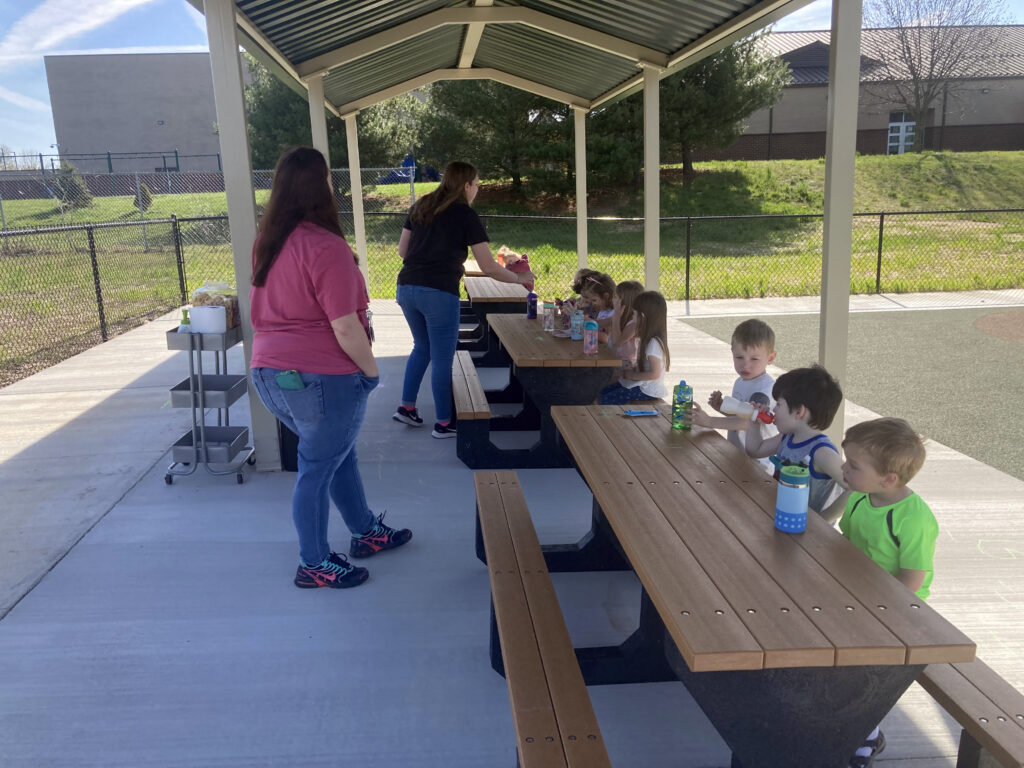 "We celebrated the space earlier this spring by inviting families to a play date at the center," she said. "We are so grateful for the support from the Community Foundation. We didn't have the money in our budget to provide such a space, and it was sorely needed." Heather says the space offers shade and protection from the rain. The picnic tables provide seating for 25 for outdoor group activities. Community members are welcome to use the area anytime school isn't in session.
Other Ellettsville grants include:
Safe and enhanced parking options at Heritage Trail, a half-mail multipurpose trail located in the heart of downtown Ellettsville.
Dollars for Scholars to support educational scholarships for Edgewood High School seniors.
Richland Bean Blossom Community Schools Trust-Based Relational Intervention (TBRI) training. TBRI training focuses on building trust and safety as foundational components to address students' social and emotional needs and behavioral and learning challenges.
Richland Bean Blossom Schools parent liaisons to facilitate learning through family engagement activities such as events, resource development, and home visits.